A report by journalist Anna Minton has uncovered conflicts of interest and what she describes as a revolving door between council officials and developers at the Elephant & Castle.
The report reveals a number of former council officers involved in negotiations with developer Lend Lease for the controversial sale of the Heygate estate, who have left the council and are now full-time employees of Lend Lease corporation.
Tom BrantonTom Branton was Southwark's lead officer responsible for the procurement of Lend Lease as regeneration partner and who authored the report to cabinet recommending the signing of the regeneration agreement in July 2010.
Tom subsequently left the Council in 2011 to start work directly for Lend Lease, where he is now Development Manager for the Elephant & Castle project.
Kura PerkinsKura Perkins worked for Southwark Council on the Elephant & Castle project as Communications Manager for a number of years. Kura is now working as Communications Manager at Lend Lease.
Lloyd AudsleyLloyd Audsley worked for Southwark as Assistant Project Manager for the E&C project until September 2004 when he left the Council. In November 2004 he started work as a Planning and Production Manager for Lend Lease.
Cllr DimoldenbergPaul Dimoldenberg was Senior Research Officer at Southwark Council for 8 years. He later became a councillor in the borough of Westminster where is now the Labour Group leader. He also set up PR company called Quarto PR, which Lend Lease currently instructs to deal with public relations for all its major developments.

Matthew ReesMatthew Rees was E&C Regeneration Project Manager from 2005 to 2014 when he left to take up the position of Development Manager at Alumno Developments, a company currently developing a block of high-end student flats at Elephant and converting the former Southwark Town Hall into artist studios and luxury student accommodation.
Julie GreerJulie Greer was Southwark's Design Manager for the Elephant & Castle masterplan. She left the Council in 2007 to work for the ODA on the Lend Lease Olympic Village development. In 2009 she set up her own company which offers developers "design advice from the early stages of a project right through to submitting a planning application, and further support and expert advice in the event of an appeal." Her company boasts "a sound track record of delivering projects in sensitive locations in London."
Chris HornChris Horn was the lead council officer who advised on Lend Lease's selection as development partner until his departure from the council in October 2007. Chris now works for Inventa Partners Ltd, a company that advises developers on planning and environmental issues. Among the projects that Inventa have advised on are Lend Lease's Greenwich Peninsula development and the Elephant & Castle development.
Beyond the Council's senior planning & regeneration team officers who have defected to the private development sector, a more than significant number of Council members have also slinked through Southwark's revolving doors:
Jeremy FraserAfter Labour lost to the Lib Dems in 2002, both the former Labour Council Leader, Southwark's Councillor for Regeneration (Steve Lancashire) and Lambeth Labour's Jim Dickson teamed up to found a consultancy offering developers "political support in the face of public opposition" to their planning proposals. The company they founded is called 'Four Communications' and has assisted developers on a large number of high-profile South Bank developments.
Cllr Stanton (left) & Lend Lease CEO Dan LabbadNick Stanton, former Lib Dem council leader who was critcised for lack of transparency after selecting Lend Lease as the council's development partner in 2007, is now an Associate Director for property development PR company 'Curtin & Co'. On Stanton's profile page for the company he writes "I enjoy working on strategic allocations enabling controversial sites to come forward for development." Under his list of major accomplishments he boasts "Winning approval at committee for a major development on a greenfield site" Amongst others, Curtin is currently advising developers on the controversial Southwark Metals development in Bermondsey for which Stanton's party received a donation.
Cllr John (left), Kim Humphries (centre), Cllr Colley (right)After having left the council in 2010, former Deputy Council Leader Kim Humphries(photo:centre) is now working on projects in Southwark as a development consultant. He has set up shop as Carvil Ventures advising developers on controversial schemes such as the Borough High st development, the Canada Water regeneration and the shopping centre redevelopment at Elephant & Castle - all schemes which he himself conceived while in office.
Cllr Mark GloverMark Glover has served as a Southwark Councillor since 2002, where he has chaired the Regeneration Scrutiny Committee and was Chair of the Southwark Labour group. In 2006 Mark founded 'Bellenden Communications', which claims it can offer developers a "full communications package to support your planning application". It also offers its clients a 'political intelligence' service, which it says involves "learning how political parties and their individual members are thinking on any given issue" and then "seeks to enlarge and inform their thoughts on behalf of our clients." Glover stepped down as councillor in May 2014, but with his 12 years as a senior Southwark councillor, we don't doubt that Mr Glover is very well placed to provide this service. In fact, amongst others he is currently advising Peabody on its Borough Triangle development, which is proposing zero social rented housing.
MP Helen HayesSouthwark Councillor and Labour MP for Dulwich and West Norwood Helen Hayes, has been criticised for her conflicting role as senior partner at Allies & Morrison – an urban planning/architectural firm that has been commissioned by both Southwark and Lambeth to draw up a number of Supplementary Planning Documents (SPDs), including Southwark's 2014 Blackfriar's Road SPD and Lambeth's 2013 Brixton SPD.
Allies & Morrison was part of the Lend Lease consortium that won the bid to become the council's development partner for the E&C regeneration. A&M is also Lend Lease's architect on its 'Stratford Internation Quarter' scheme and a former partner of A&M subsidiary 'Urban Practitioners Ltd' is now development manager at Lend Lease. A&M has been behind a significant number of major developments that have received planning permission in southwark, including: the Eileen House - (Ministry of Sound) development; the Isis House development; the Bankside 123 buildings; the Great Suffolk Street Premier Inn development; the Brandon House development - (Former Home Office building on Borough High St); and the 'Paris Gardens' development.
MP Neil CoyleNeil Coyle is Southwark Labour's MP for Bermondsey & Old Southwark. Neil had has the remarkable privilege of sitting simultaneously on the council's Planning Committee at the same time as holding a post as its deputy Cabinet member for estate regeneration. He has also exercised the privilege of buying a property in 'O Central' - one of the Elephant's new developments built by dodgy developers Oakmayne[1]. His wife (Sarah Lindars) is a partner at Dan Pearson Studio (the architects commissioned to design the Garden Bridge). No wonder then that he is a vehement supporter of the Garden Bridge scheme.
Chief Whip Dan GarfieldCllr Dan Garfield is a ward Councillor for the Aylesbury estate and also Southwark Labour's chief whip. He is also owner of a 2-bed new-build appartment on the completed phase 1 of the Aylesbury estate redevelopment scheme, which he bought off-plan from developer L&Q in March 2009 (two years before it was completed).

Cllr Fiona ColleyFormer investment banker and current Labour Councillor for Nunhead Fiona Colley, used to be Southwark's Cabinet Member for Regeneration. In her Cabinet post she oversaw the conception of many schemes including the Canada Water regeneration. She liked this scheme so much that she bought two flats off-plan from the developer (and then sold them on once they had been built)[2].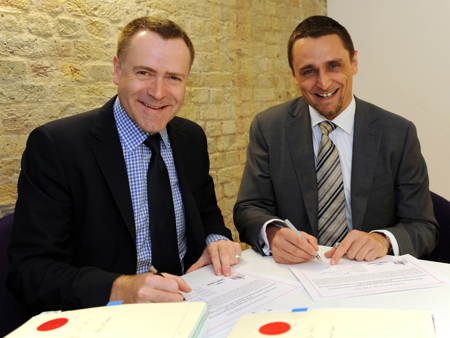 Cllr John signing Heygate over to Lend LeaseCurrent Labour Council leader Peter John who signed the E&C deal with Lend Lease in July 2010, is currently under investigation for not declaring tickets to the Olympic opening ceremony donated to him and his partner by Lend Lease. In March 2013, he was criticised for accepting an all-expenses-paid trip to a property fair in Cannes paid for by Lend Lease.
Peter John & partner at OlympicsWith controversy mounting about the deals being done with developers in Southwark, serious questions are starting to be asked about conflicts of interest and integrity of those supposed to be acting in the council's best interest.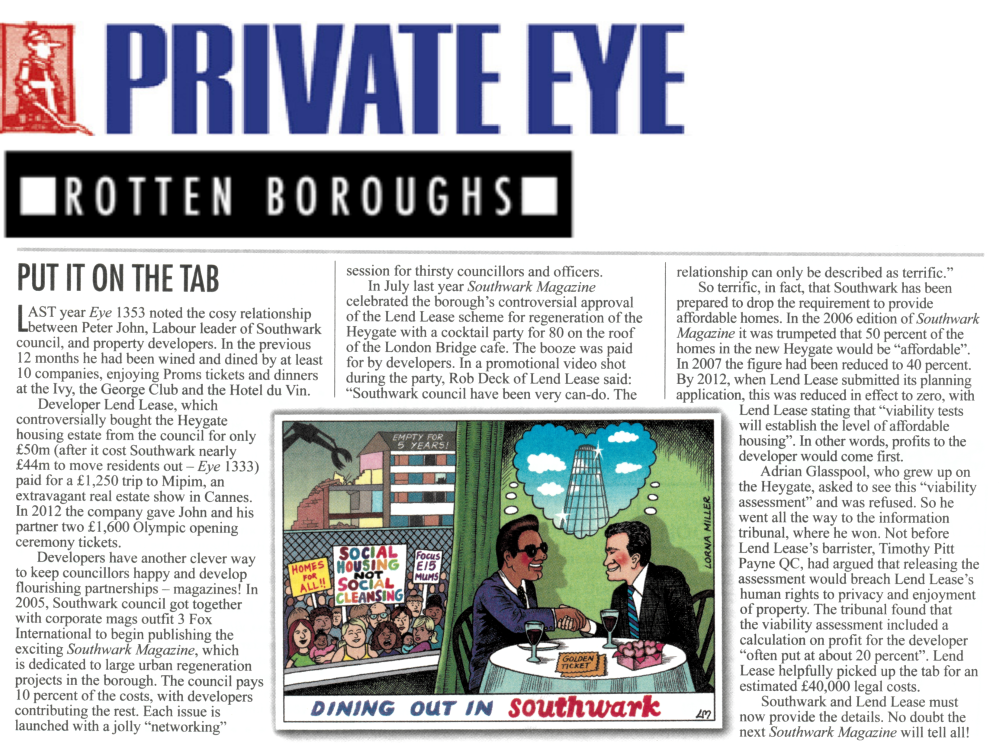 [^1]: Neil Coyle -> Flat 306, ' O - Central ' 83 Crampton Street, Elephant & Castle, London SE17 3BT
[^2]: Fiona Colley -> Flat 8, Yew House, 2 Woodland Crescent, London SE16 6YH and Flat 8, Rowan House, 3 Woodland Crescent, London, Greater London SE16 6YF