A recently released report by journalist Anna Minton has uncovered conflicts of interest and what she describes as a revolving door between council officials and developers at the Elephant & Castle.
The report reveals a large number of current and former Southwark councillors with links to private sector property developers with developments in the borough. It follows revelations that a number of former council officers involved in negotiations with global property developer Lend Lease for the controversial sale of the Heygate estate, have left the council and are now full-time employees of the firm.
Tom Branton and Kura Perkins both worked for Southwark Council on the Elephant & Castle scheme for a number of years. They have both now left the council and Kura is now working as Communications Manager at Lend Lease. Tom is now Lend Lease's Development Manager for the Elephant & Castle project.
Lloyd Audsley worked for Southwark as Assistant Project Manager for the E&C project until September 2004 when he left the Council. In November 2004 he started work as a Planning and Production Manager for Lend Lease.
Chris Horn was the lead council officer who advised on Lend Lease's selection as development partner until his departure from the council in October 2007. Chris now works for Inventa Partners Ltd, a company that advises developers on planning and environmental issues. Among the projects that Inventa have advised on are Lend Lease's Greenwich Peninsula development and the Elephant & Castle development. Chris has also represented developer 'Oakmayne' in its controversial application to build a 41 storey tower next to the Ministry of Sound.
The report went on to reveal that nearly a quarter of Southwark's councillors also work in the development industry's PR lobbying business.
After Labour lost to the Lib Dems in 2002, both the former Labour Council Leader (Jeremy Fraser – left), Southwark's Councillor for Regeneration (Steve Lancashire) and former Lambeth Council leader Jim Dixon decided to set up a consultancy together advising developers on real-estate developments. Their company is called 'Four Communications' and one of its main clients is CIT Developments. Four Communications is currently advising CIT on a number of developments in the borough, including the controversial 'King's Reach Tower' scheme. Fraser was Council Leader in 1997 when he sold the 13-acre council-owned 'More London' site at Tower Bridge to CIT for just £65.5million. Today the site houses the GLA Headquarters and is recently said to have changed hands for £1.7bn. Another of Four Communication's clients is Oakmayne Plc, which it is advising on its controversial Eileen House development.
Nick Stanton, current councillor for Riverside ward and former council leader who was critcised for lack of transparency after selecting Lend Lease as the council's development partner in 2007, is now an Associate Director for property development PR company 'Curtin & Co'. On Stanton's profile page for the company he writes "I enjoy working on strategic allocations enabling controversial sites to come forward for development."
Under his list of major accomplishments he boasts "Winning approval at committee for a major development on a greenfield site" According to Private Eye, Lend Lease numbers among Curtin & Co's clients on a number of projects, and Curtin is currently advising developers on the controversial Southwark Metals development in Bermondsey for which Stanton's party (Lib Dems) received a donation.
After having left the council in 2010, former Deputy Council Leader Kim Humphries is now working on projects in Southwark as a development consultant. He is currently advising developers on a controversial Borough High st development, the Canada Water regeneration scheme, and the Elephant & Castle regeneration scheme – both schemes which he himself conceived while in office!

Catherine Bowman was Executive Member for Regeneration from 2005 to 2007. She then left the council to advise developers acting for the shopping centre on its communication strategies.
In total, four senior council members involved in the E&C regeneration scheme during their period in office, are now working for developers at the E&C.
   * Jeremy Fraser (Council Leader 1994 - 1997)
   * Steve Lancashire (Executive Member for Regeneration 1998 - 2002)
   * Catherine Bowman (Executive Member for Regeneration 2005 - 2007)
   * Kim Humphries (Deputy Council Leader & Head of Housing 2006 -2010)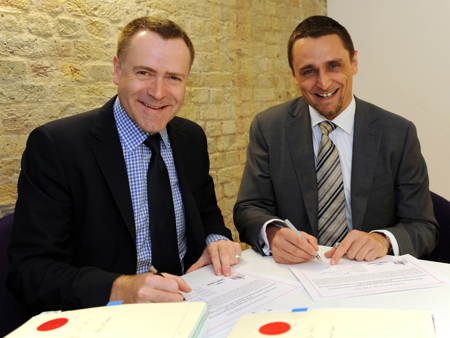 Current council leader Peter John who signed the E&C deal with Lend Lease in July 2010, is currently under investigation for not declaring tickets to the Olympic opening ceremony donated to him and his partner by Lend Lease. In March 2013, he was criticised for accepting an all-expenses-paid trip to Cannes paid for by Lend Lease.
Council leader Peter John with his partner Symon Lee at Olympic opening ceremony with tickets paid for by developer Lend Lease:
With the recent disclosure that the council will be making a loss on the sale of the Heygate site while Lend Lease are predicted to make a £194m profit from its purchase, questions are starting to be asked about conflicts of interest and integrity of those responsible for acting in the council's best interest.